Painting blind-sided buildings YPEKA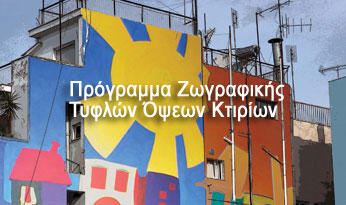 PRESS RELEASE - 09/09/10 YPEKA
THEME: "Painting blind-sided buildings: the gray color of the city"
Finally, the monotony and the image leaving many areas of contemporary Athenian cityscape puts the Ministry of Environment, Energy and Climate Change, in association with the School of Fine Arts activates action "Painting blind-sided buildings' listed in Schedule" Athens-Attica 2014 ".
The authority shall be five buildings located in densely populated and deprived areas of Athens: Hotel Vienna in the corner Menander & Piraeus, L. Kallirois 75-77 New World (from Fix), Fr. Smith & Kasomouli New World, 6 Kriezotou Center, Laconia 24 Ambelokipi. The buildings have been selected among those for whom expressed interest owners, mainly because of their location, the proximity of unstructured spaces, the possibility of comfortable viewing and generally contributing to the aesthetic enhancement of the area.
This followed a call for expressions of interest YPEKA to owners interested in disposing of their blind sides of their buildings to be painted. Moreover, he had made a call for partnership with the Fine Arts for the first pilot project. The Fine Arts selected the best proposals after a competition among students. Evaluation committee of the School together with original sketches, colorful, clever creations, to make the gray urban landscape more attractive and interesting. After signing program contract between YPEKA and ASFA, budget 100,000 euros, the latter will undertake the immediate implementation of five projects, which should be completed before year end.
The masked faces of the buildings serve as scenery, which instead express indifferent or poor performances, give meaning and offer challenges, experiences and emotions to passersby and residents. The paintings are "landmarks" projection points, marking and promotion of the area and need help in ownership and development of a positive relationship with the public environment. It is an alternative form of cultural expression that displays the creations of artists, transforms obsolete areas and causes, often carrying diverse messages.
This pilot action to be implemented immediately and in Thessaloniki, has already attracted the interest of citizens and then the application would be considered by the YPEKA the ability and the way of expanding the program to more buildings and collaboration with artists from other area
Repair the ministry's website to view and ideas Selected..
here.